Val's Coffee Lounge at 123 Swanston St, City was a popular mixed meeting place (camp and straight, men and women) in the early 1950s.
The Lounge, which seated eighty people downstairs and another eighty upstairs had parquet flooring with a royal blue carpet up the middle of the floor, and mauve-painted wooden chairs and tables. The lounge was lit by standard lamps with raffia shades and coloured globes.
Val, the proprietress, said the idea for the coffee lounge started out with her above the Tivoli theatre in Bourke Street.
"It was an enormous success. We used to be packed every night. After about twelve months the basement became vacant and I opened a second cafe below. I was the first to put live music into a coffee lounge. We had a concert every Sunday night. Everyone on staff had theatrical talent. We had a grand piano and a very good three piece band. One of the singers was a woman who had a very deep voice. Many people mistook her for a man. The majority of customers were gay but all theatrical people came. Theatre audiences came for supper afterwards. We'd be open from ten in the morning til half past eleven at night when the last trains went. People used to get dressed up 1 just to come to the coffee lounge. They could be themselves and feel as if they were at home. People would say: 'Oh my god Im not the only one in the world'. "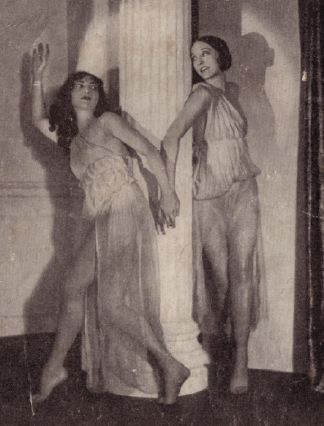 Val herself was a striking figure with a very theatrical air. She was often seen out at the theatre in men's full evening dress and bright red lipstick. She said:
" We were outrageous back then. We rebelled against the dreariness ofMelbourne. 1 was a bit hard to miss. If I was out 1 wore a homburg hat and carried a silver topped cane. An Italian woman tailor made me beautiful suits which were well cut, in very good taste and extremely mannish. I got away with it because I wasn't intimidated. If I'd shown any sign of doubt I would have copped it. "
Coffee shops were an important part of Melbourne's nightlife in the days before liquor licencing laws were eased in 1966. For fifty years between 1916 and 1966 sales of alcohol in hotels, cafes, and restaurants stopped at 6pm. This meant that restaurants in the modem sense were unknown in Melbourne and most people would stop off for a coffee and a meal in a cafˇ or coffee-lounge, instead of going to a hotel or bar as they would now. This meant that coffee shops like Val's were an important part of the early camp and gay scene in Melbourne.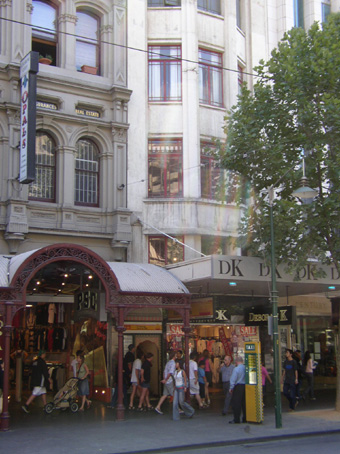 site of Val's coffee shop, at 123 Swanston St,
now a Hare Krishna restaurant
(white ediface to left of the tree)