Over the years our sense of who is and isn't a part of our community has expanded pretty dramatically. But often people think that many of the newer inclusions reflect newly emerging groups (rather than a greater confidence and visibility among those marginalised for their sexuality).
In fact, Melbourne's Seahorse Club - a club for transgender people - is one of the oldest and most successful organisations within the queer community.
Like many community groups it made the shift from a social group to a support group to an activist group via many false starts and by pursuing many dead ends.
Seahorse was founded in 1975 as a social group for, as one (drunk) member put it once, 'blokes dressed as women'; although there are hints and clues that suggest a history going back to 1971 infrequent gatherings of three or four in a private home in the suburb of Kew - a venue remembered by some as Kew Castle.
It was in these early days, very much a social organisation - no rules, no constitution, no-one to record its history. Word of its existence circulated only by word of mouth. But in 1974 under the leadership of Karen, the group started to take off. More and more people got involved. Affairs were set on a much more business-like footing. Links with a Sydney organisation took things to a national level.
Seahorse and its members gradually gained the confidence to come out. Interviews on ABC radio and on Channel 9, public forums, a social at the Doncaster Shoppingtown Hotel and an outing to Betty Blokkbuster, Reg Livermore's outrageous stage show (starring the flamboyantly crossdressing Betty herself) ...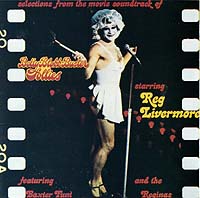 Betty Blokk Buster follies first opened in Sydney in 1975


In 1977 the big breakthrough - an invitation to appear on 'Ti's Pad', a popular daytime chat show. An invitation enthusiastically taken up by a whole group of 'the girls'.
Today the Seahorse Club is a fully-fledged member of the queer community, proudly claiming its place alongside other transgender groups. It participates in Midsumma carnival and played a role in Tnegotiating the Victorian Labor government's transgender anti-discrimination law of 2000.
It wasn't always thus. In its early years, Seahorse's cross-dressing members were very keen to distance themselves from the fledgling gay movement. The national organisation advertised itself in the leftie/counter-cultural newspaper the Nation Review as holding 'regular "femme" meetings with heterosexual members in all states'. And when the Victorian branch advertised itself it was usually in the racy and very hetero Australasian Post, rather than in the gay or lesbian press.
But by the early 1980s, the group's success was making it more and more confident. And of course, the emergence of a gay community ever more accepting of its own diversity, created a space for an organisation that was not gay at all but which shared many of the gay and lesbian community's needs for tolerance and acceptance.