Tracing lesbian lives and lesbian history is a more difficult task than that of tracing the lives of gay men in the past. There are fewer traces, fewer public records and less accessible information relating to women's lives than to men's lives.
A culture of denial about women acting as sexual beings, however, actually made it quite easy for many lesbians to avoid public censure, to "pass" as it were as heterosexual.
Two of Melbourne's "invisible" lesbians make interesting case studies in the way there were able to live fairly openly in female relationships, without attracting public criticism.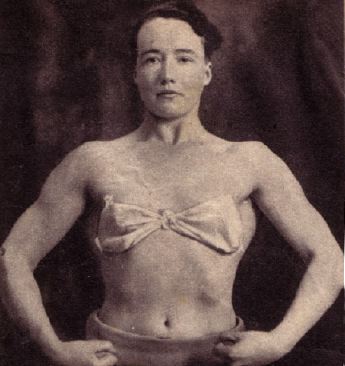 female body builder
Miss Harriet Elphinstone Dick (1858 - 1902) was an early swimming champion, having won many prizes at the old St Kilda Baths in the 1870s. She had an intense interest in physical fitness and in the early 1880s opened Melbourne's first women's only gymnasium, in the Queen Victoria Building, which used to stand where the City Square is now. Physical fitness for women was a popular idea of the 1880s and the gym attracted many of Melbourne's independent career women, particularly teachers from the city's growing number of private girls' schools. Miss Dick ran her gym for 20 years, always in partnership with another woman (there was a constant change-over in partners - about 6 in 20 years).
At this point one might be excused that Miss Dick was merely an independent woman, an example of the so-called "New Women" of the 1880s. It's only when one looks at her private life, however, that Miss Dick's character is seen more fully.
Miss Dick and her companion (who's name hasn't come down to us) lived together for over 20 years in Brighton. They also had a farm in the country at Clayton (where Monash University's main campus is these days). They were obviously early feminist separatists as it is said that on there farm they would allow no male animals at all!
Just as interestingly, Miss Dick and her friend got into spiritualism in the 1890s (when it was quite fashionable - Sir Arthur Conan Doyle, author of the Sherlock Hohnes stories was another believer). Miss Dick's spiritual adviser, a spirit known as "Pat", convinced her that there was oil to be found under Point Ormond at Elwood. But although large amounts of money were spent drilling for oil in Elwood, nothing was ever found. Nothing daunted, Miss Dick weathered the laughs and jeers of a disbelieving public, preferring to follow her own beliefs and to do things her way.
Another of Melbourne's "invisible lesbians", was Dorothy Ross (1891 - 1982), a respected educator and educational theorist. An extremely intelligent and talented woman, she graduated from University of Melbourne in 19 10 and eventually rose to be headmistress of the prestigious Melbourne Church of England Girls Grammar school from the 1930s to the 1950s. Loved by her pupils and respected by their parents and others in the educational community, she survived accusations of favouritism when she promoted the young and relatively inexperienced Mary Davis to the post of headmistress of the junior school in the 1940s. While it is obvious now that they shared an intensely strong lesbian relationship, at the time many people chose not to believe the evidence and the two managed to combine a successful relationship with respected careers over several decades.