In the late 1950s and early 1960s the place to go for young Melbourne camps looking for work was Myers. The Display Department in particular was kind of like the Qantas of its day - more gay men gathered in one place than many would have thought existed in the whole of the city.
Part of the reason for this was Freddy Asmussen, who was the head of Display and responsible, most famously for the window displays. Today's Myer Christmas windows are all that remain of a practice that once went on year round, changing with the seasons and at the whim of the director. And for years and years, the windows - and the staff that produced them - were Freddie's world.
He ruled his realm a rod of iron, with tantrums and screaming from a hideaway between floors that was known - to those who were aware of its existence at all - as the Gold Room - filled as it was with gilt and chandeliers and wonderful things that he had bought from overseas.
It will come as no surprise perhaps to hear that Freddie was a queen - of the most outrageous sort. And he used his position to give jobs to other queens, filling Myers with the young, the good looking and the creative. Freddie's taste ran to men rather than boys and so those employed were there for their flair and skill and eye for design. A three month trial - a kind of apprenticeship - and you made it, or you were out. But if you made it you were part of a team that thought of themselves as 'Freddie's Boys'. They were loyal to him, to each other and to the store. They were fierce rival of the boys from the other stores - George's and Waltons and Buckley and Nunns.
Wandering the floors of the store, a rose in hand, Freddie barely bothered to conceal his sexuality. He didn't really need to because, although living in a world that was less comfortable with homosexuality than ours, Freddie's desire to be so very very out was made possible by the patronage and protection of Dame Merlyn Myer, matriarch of the family.
In return Freddie helped secure her place in Melbourne society. An event organised by Dame Merlyn was an event indeed, with the flamboyant hand of Freddie everywhere. Her home, or the Town Hall, or any other venue, would be transformed by Freddie and his treasures. The gilded Victorian furniture from the Gold Room would be packed up and reassembled wherever it was needed to impress. On occasions the whole of the Myer house would be fitted out. On one spectacular occasion, some of Freddies Boys were recruited to serve as Blackamoors at the door!
Freddie came to a sad end - he drank too much and it did his health no good. But his contribution to Melbourne in the fifties and sixties - to bringing a little colour and beauty and flamboyance to a notoriously dull city, makes him an important part of Melbourne's history.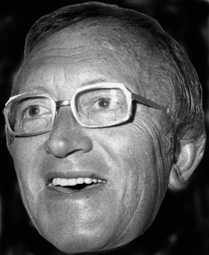 Freddy Asmussen in 1974