Edward de Lacy Evans arrived in Melbourne in 1856, as a female emigrant, Ellen Tremaye. After a domestic servant she adopted male attire and married a woman called Mary Delahunty, who came out on the same ship as her. This relationship lasted several years but the two eventually separated and in 1862, Evans married a young Irishwoman called Sarah Moore. They lived together until Moore's death in 1867. Evans then married a third time, to a woman called Julia Marquand. A daughter was born in 1877, but in 1879 Evans had some kind of a breakdown and was admitted to the Bendigo hospital. Six weeks later he was sent to the Kew Lunatic Asylum where, when attendants tried to bathe him, it was discovered he was a woman.
Evans' three marriages generated considerable interest in the discovery. On some level marriage implied sexual relations and newspapers relayed indications of Evans' sexual interest in women dating back to her "intimate friendships" on board ship on the way to Australia. Aboard ship, Evans apparently declared to all that she would marry a shipmate when they arrived in Melbourne, and there are stories of Evans chasing the girls and "pulling them about' telling them she was a man. Another story concerned Evans' time as a female domestic servant for a married couple at Bacchus Marsh. When the husband was away Evans was asked to sleep with the wife "for company". Although what passed between them in the bed that night was not told, the husband reportedly horsewhipped Evans when he returned and she was forced to clear out.
In the reportage of the career of de Lacy Evans is interesting as Evans' behaviour in taking on a male persona and male work was considered courageous and even admirable. Arriving in Melbourne:
"As a stranger, an unprotected girl, with nowhere to go, instead of ending her troubles with a plunge into the river, as many with less resolution would have done, she determined to face the world and adopted the masculine garb for her better protection and support. "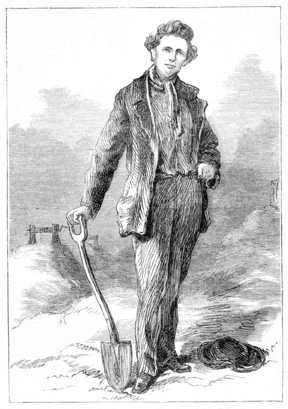 Even Evans' first marriage was excusable by the same rationale. It was clearly understood that there were more reasons for a woman to marry (as a woman or as a man) than the pursuit of sexual pleasure. Journalists speculated that Evans (or Delahunty, the first wife) had become pregnant and that marriage was cooked up by the two to hide the shame of an illegitimate birth. Alternatively marriage whilst in male attire was understood as merely part of the disguise, a strategy for making the appearance of male sex more convincing.
However, the two subsequent marriages plus the stories from on board ship and from Bacchus Marsh, led one journalist to conclude that "the woman must have been mad on the subject of sex from the time she, left Ireland", if not before!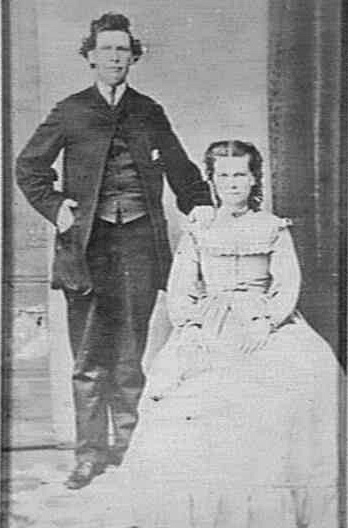 Evans and Julia Marquand, 1879