It's 1930, it's Melbourne and you're gay . What do you do for fun? Where do you meet people? Where do you go to see and be seen and to hear the latest dirt? Don't bother trying a pub or a bar - since 1916 they've shut at 6pm. The licencing laws won't relax until 1966. You can't even get a glass of wine with a meal in this town - a couple of the more expensive restaurants have "late" licences, which means they'll swipe the bottle and anything left in your glass off the table dead on the dot of 8:00pm. And as for nightclubs - forget it - they only exist in Hollywood movies.
So, where do you go? That's easy. You head for the bright lights of Collins Street in the city and find yourself a coffee shop!
In the 1930s Melbourne had two main streets of entertainment - Bourke Street and Collins Street. Bourke Street tended to have the cinemas and theatres - the Tivoli, the Theatre Royal, the Gaiety, the Bijou, Hoyts. Collins Street was more select, apart from the Tatler Newsreel Cinema at the Hotel Australia, Collins Street didn't cater for popular entertainment - Collins Street was classy shops and food.
The first time a café in Collins Street found itself in the papers as the haunt of a particular type of young man was in 1908, when three young fellows got dragged up and went off to the Vienna café in Collins Street, where they had a champagne supper in a private room. Of course, they were found out and ended up in court charged with offensive behaviour. But they had fun before hand!
By the 1930s, Collins Street had a string of coffee shops which were tacitly colonised by Melbourne's camp fraternity. The biggest of the lot was Tates in the basement of the Manchester Unity building, on the corner of Swanston Street. This place was huge! It seated 200 patrons and was particularly busy after the picture shows got out in the evenings. Camps and queens gravitated to it and tended to take over the place - and security in numbers breeds some pretty outrageous behaviour - but no one ever got into trouble with the law for causing a "public nuisance".
Further up the street was "Cinderella's" which was a tiny little place run by an elderly lady who greeted her patrons on the footpath every evening after the pictures got out. There was always a queue to get in and Cinders used to stand out there in a tatty old black evening gown acting as door bitch. She had an uncanny knack for picking gays and lesbians and tended only to let the camp crowd into her place - "you can come in, you can't!"
Once inside, Cinders would disappear behind a curtain into an alcove which had a hot water urn and a toaster to produce the only two items on the menu of the place - tea and raisin toast! It was all pretty basic, but the young could call their own, under the benevolent eye of Cinders.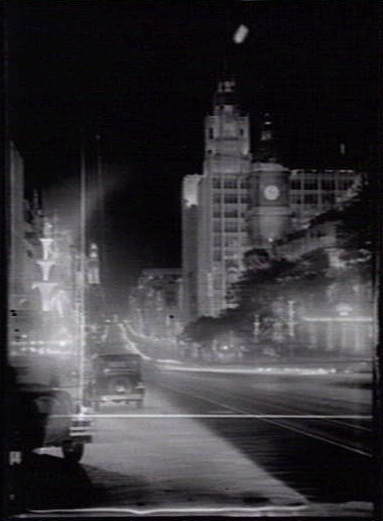 Manchester Unity Building, Collins St, 1930s